PATRIOT FRONT NAZIS CHASED INTO MOVING TRUCKS in PHILADEPLHIA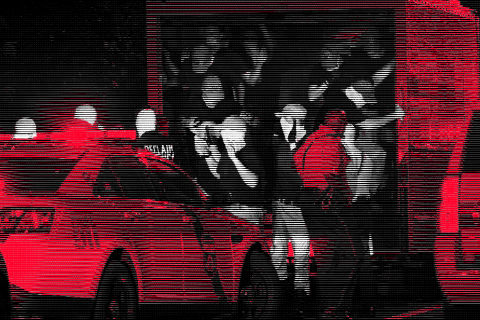 Approximately fifty members of the SPLC-designated hate group Patriot Front were briefly detained by Philadelphia police early this morning, following a flash rally that saw members of the group igniting gas grenades and fighting with bystanders in the shadow of City Hall. Carrying PF-branded flags and shields, the group marched in formation down the Ben Franklin Parkway from the direction of the Art Museum before encountering resistance from Philadelphia residents, who forced the group to break ranks and chased them away from Center City towards Penn's Landing. The two groups clashed as the Patriot Front members climbed into the back of three Penske moving vans and drove away. Minutes later, Philadelphia Police pulled the convoy over on Christopher Columbus Boulevard and detained the group for approximately an hour before releasing them with no charges.
Patriot Front was originally born in the aftermath of the disastrous 2017 Unite the Right rally. 19-year old organizer Thomas Rousseau founded the group after abandoning his group "Vanguard America," whose brand had becme toxic after neo-Nazi James Alex Fields Jr. marched alongside them. Fields murdered Heather Heyer and injured 19 others in a car attack in the aftermath of Unite the Right. . An open and avowed neo-Nazi, Rousseau is upfront about his hatred for minorities and desire to reorganize the United States as a white ethnostate. Patriot Front quickly began a campaign of propaganda across the country, with their iconography and propaganda appearing in multiple cities. A George Floyd memorial in North Philly was vandalized with Patriot Front graffiti early last month, and Patriot Front members marched in a similar fashion in Nashville on June 10 and Washington, DC following the J6 Capitol riot. Flash rallies have become a popular tactic of right-wing militias and paramilitary groups, especially in left-leaning cities like Philadelphia where they may face resistance. Several Proud Boys chapters attempted to stage a flash rally in Philadelphia's Old City in September of last year, and Patriot Front employed the tactic in Pittsburgh that November. The late-night rally follows months of increased right-wing paramilitary activity in Philadelphia, including a failed White Lives Matter march in April that promised attendance by Patriot Front members—though that event was thwarted by antifascists before the planned date.
Video captured of the Patriot Front flash rally at City Hall, taking place at 10:30pm on a Saturday. Approximately 50 men in khakis with PF banners yell "Reclaim America!" on video in Center City Philadelphia.

(Your browser doesn't support the video tag.)
Patriot Front elements were first identified in Center City Saturday night via Twitter, where video surfaced of unidentified protesters marching towards City Hall in force. The group can be heard chanting "RECLAIM AMERICA" as they cross 15th Street towards the Philadelphia Municipal Building. More video taken at the base of City Hall several minutes later show the group facing resistance from bystanders who eventually pushed them back and out of Center City. Photos by the Philadelphia Inquirer's Jessica Griffin chronicle the group's retreat as they are pushed back to their trucks at a parking lot near Penn's Landing, igniting red colored gas grenades to cover their retreat. The group hurriedly piled into the back of the rental trucks and attempted to flee down Christopher Columbus Boulevard.
The convoy was intercepted minutes later by PPD, who handcuffed and detained Patriot Front members while they searched the three vehicles with K9 units. PPD cruisers blocked off Columbus Boulevard northbound from Cherry Street Harbor to Race Street, which drew the attention of bystanders out celebrating the Fourth of July.
Multiple PF members detained and handcuffed at Delaware and Penns Landing. It's Fourth of July weekend, and the streets are packed. At least 20 bystanders taking videos and laughing.

(Your browser doesn't support the video tag.)
More video of PF being corralled by PPD after they were detained. This seems to be most of the group, rough head count 35-55. Seems like no one was arrested, and RUST reports that SEPTA buses were used to return ralliers to their cars. Will update with blotter reports in the AM.

(Your browser doesn't support the video tag.)
While most PF members wore a uniform white balaclava and brown baseball cap, Patriot Front founder Thomas Rousseau was photographed on the scene as he spoke to police on the street. Also identified at the rally as a vehicle driver was Graham Jones Whitson, Rousseau's roommate and an active PF member. The group was eventually released without arrest, though traffic laws prohibited them from leaving in the cargo areas of the rental trucks they arrived in. Philadelphia Police commandeered two SEPTA buses to escort the group back to their cars, and the crowd was dispersed.
A note from the editor...
LCRW will ALWAYS publish ALL of our content free-of-charge for the public good. Our work is supported by readers like you!!
I'm a broke journalist and run this outlet mostly out-of-pocket. I would love nothing more than to be able to dedicate 100% of my time to doing this coverage.
Support for LCRW has allowed me to travel to report, make ends meet every month, and even buy gear and software licenses for my work. I can't thank the folks who donate enough.
— Abner Häuge, Editor-in-Chief