ELECTION WEEK in LA: CELEBRATIONS, PROFILING & MASS ARRESTS
by OWEN GRADY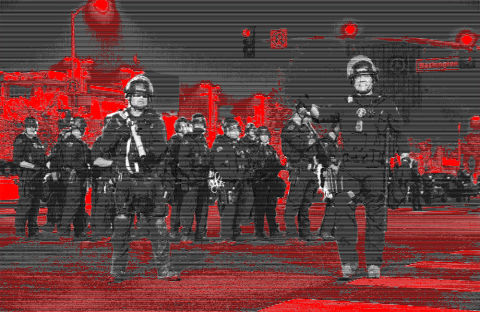 On Tuesday, November 3rd, Los Angeles Police Department preemptively announced a citywide tactical alert. L.A Sheriff's Department had done the same the previous Sunday. Both law enforcement agencies were preparing for possible unrest during the election. Black Lives Matter Los Angeles hosted a celebratory all-day election viewing party which was interrupted when LAPD stormed in and violently apprehended 6 people for wearing all black.
On Election Day, BLM LA hosted a 'Marathon Party At the Polls' at the Staples Center. Organizers of the event arrived at six a.m.; setting up a stage, refreshment tables, canopies, and a television. The mood was celebratory and energized. There had been months of 'Get out to Vote' and 'March to the Polls' rallies which resulted in hundreds of voters unifying to drop off mail-in ballots together. During the day, the group of about fifty danced and sang, while others voted in-person a few hundred feet away at the polling location. Los Angeles Police Department preemptively declared a tactical alert for election night and had every officer available.
The sun lowered and polling places began to close. The crowd grew as people arrived to view results. A group of about 150 surrounded the television, masks on and eyebrows furrowed as they viewed the CNN electoral map updates. Five medics in black bloc gathered behind the screen, checking supplies and chatting with one another. At 7:15 PM–45 minutes from the scheduled end of the party–at least eight LAPD officers in riot gear stormed into the group, snatching the 5 medics and dragging them across the subset of Pico Blvd.
This tweet has been deleted or removed.
Many of those watching election results were now standing opposite a skirmish line, demanding to know why the medics had been apprehended. As organizers with BLM LA attempted to quickly pack up their gear, LAPD officers aggravated the group further by assaulting multiple people with batons.
One officer with the last name Toval scribbled on his helmet provoked a protester to start a fight, stating "I'm ready whenever you wanna fight man. Lemme know when you're ready… all bark no bite'.
Sean Beckner-Carmitchel

@ACatWithNews

Beforehand- Officer Toval threatens protestors. Says:

"Whenever you wanna fight, man. Lemme know when you're ready."

#policebrutality #badcopnodonut #lapd #ElectionNight #dtla

(Your browser doesn't support the video tag.)
As protesters continued demanding the reason for the five medics' detainment, an arrest squad pushed through the skirmish line and violently detained a photographer. An officer allegedly described the photographer as 'Antifa surveillance' because he was in all black attire.
Sean Beckner-Carmitchel

@ACatWithNews

After the initial bum rush by LAPD(is calling an unlawful assembly on a route next to a polling station really a good idea?) they made one more targeted arrest, this time of a photographer.

Again, no weapons found and no crime was committed. No dispersal order made yet.

#BLM

(Your browser doesn't support the video tag.)
Police declared an unlawful assembly in the twenty minutes following, which stated the corner of Pico Blvd and Figueroa St were closed. Media was given a designated area in which LAPD Capt. German Hurtado gave an interview. He attempted to clarify the reason for the six unlawful detainments made during the election viewing party, admitting the six were detained for "reasonable suspicion" that they were going to commit a crime. Police discovered nothing illegal or suspicious on the six protesters. They were eventually released. Radio chatter heard via scanners suggested officers had targeted those in black bloc, or "protest garb" throughout the night.
Vishal P. Singh (they/he) 🏳️‍⚧️

@VPS_Reports

LAPD is still snatching random people. Threatening to arrest members of the press as well. #election2020 #electionday #vote #vote2020 #trumpprotests #bidenprotests #electionnight

(Your browser doesn't support the video tag.)
Following the declaration of the unlawful assembly, most of the crowd began marching Westbound on Figueroa St. The protest was trailed by a massive police presence. Videos showed multiple protesters being profiled, detained, and searched on nearby side streets while attempting to leave the area.
This tweet has been deleted or removed.
A crowd of about 50 remained, who heckled officers over their dramatic show of force. The crowd then celebrated the announcement of incumbent District Attorney Jackie Lacey's electoral loss. The group, now at Figueroa St and Washington Blvd, were quickly boxed-in by a horseshoe of skirmish lines on three sides. Another unlawful assembly was declared around 10:30 p.m. LAPD gave a designated media area to the press–the Northwest corner of Figueroa and Washington–while pushing protesters two city blocks southbound on Washington Boulevard.
When members of the press expressed frustration at a lack of ability to document the situation, LAPD officers sarcastically told photographers to rely on "long telephoto lenses." This was blatantly impossible due to the congestion of officers and police vehicles blocking the street. Many members of the press believed this was a deliberate separation to provide a cloak to brutally arrest protesters.
LAPD then proceeded to kettle the group on Washington Blvd, trapping them against the Grand/LATTC (Los Angeles Trade Technical College) Metro rail platform. There, LAPD performed a mass arrest on suspicion of failure to disperse of more than fifty, which included multiple members of the press, along with a group of five National Lawyers Guild (NLG) legal observers. All of the arrested protesters were loaded onto a Los Angeles Police Department bus, where they were then transported, cited, and released.
Sean Beckner-Carmitchel

@ACatWithNews

Again on the sidewalk: one group of officers pushes us forward with batons and foam bullet guns while another group of officers on the other side tells us to stay in one place while pointing foam bullet guns.

#2020Election #dtla #blm #LAProtests

(Your browser doesn't support the video tag.)
The following day, Wednesday, November 4th, a march planned to meet at Los Angeles City Hall at 6 p.m. Many of those arriving made their way to the tail-end of Black Lives Matter Los Angeles's 'Jackie Lacey Will Go! Celebration!' event. A crowd of about 200 celebrated the defeat of incumbent District Attorney Jackie Lacey in the recent election. Lacey failed to charge a single police officer for 622 lives taken at the hands of law enforcement during her term. BLM LA has protested against Lacey for years, holding weekly 'Jackie Lacey Must Go!"rallies outside the Los Angeles County Hall of Justice. This celebration took place in the same location, but this time with tears of joy and cheers for change. Family members of those murdered by law enforcement in Los Angeles spoke to the crowd, not only celebrating the defeat of Lacey, but also celebrating the influence that Black Lives Matter Los Angeles had shown within this recent local election. LAPD and LASD officers in riot gear filled the neighboring blocks, closing off freeway exits and streets in the direction of City Hall as a tactical alert remained in effect.
A.A.R.F. Autonomous Anarchist Revolutionary Front

@AARF_LA

WHOEVER THEY VOTE FOR, WE ARE UNGOVERNABLE! Join us along with other Anarchist/Autonomous orgs on 11/4 in DTLA! 🏴

#AllOutLA #EveryoneOut #BecomeUngovernable
At about 6:45 p.m, BLM LA concluded their event with a sonnet. About half of the crowd began to head home, while those who remained trickled down to the front of City Hall. A group of about 100–a quarter of them in black bloc–gathered on the steps with a large 'We Are Ungovernable' banner. The group began to move at about 7, chanting 'white supremacy is small dick energy!' Protesters acknowledged the threat of far-right violence and a man with a megaphone told the group "This is going to be a peaceful march. But if any MAGA Trumper shows up and tries to cause problems, it wont stay peaceful."
The group continued to march as those residing in apartments above watched from their windows. Many shouted words of encouragement to the group below, while some held 'Black Lives Matter' signs to their windows in solidarity. The protest made its way to Pershing Square, where they briefly shut down the intersection of 5th and Hill St. There, two speakers addressed the group, thanking them generally for their activism over the past months, and stressing the importance of self-care in this time. One stated, 'We'll have actions going on all weekend, and all next week. We need to stay safe, and take care of ourselves, and save our energy when we can.'
The group then began to disperse from Pershing Square. Those which remained chatted amongst themselves on the sidewalks. Multiple protesters laughed at the fact Joe Biden was about to take Georgia. Others continued to revel at the defeat of Jackie Lacey. As the group continued to disperse, 7 unmarked LAPD vehicles and one SUV with an LRAD arrived at the Southwest corner of 5th and Hill. Protesters who remained taunted the officers. More LAPD officers arrived then formed skirmish lines on three sides of the group.
Sean Beckner-Carmitchel

@ACatWithNews

Unlawful assembly declared: no crime has been committed and peol are surrounded on 3 sides by police

(Your browser doesn't support the video tag.)
About 25 protesters remained when an unlawful assembly was declared, and officers stated the crowd must move Northbound on Hill Street. Protesters shouted 'We keep us safe!' while moving up Hill St. and following dispersal orders. As the smaller crowd approached the next intersection, A squad of officers on motorcycles ambushed and cut off the group, forming a kettle between 4th and 5th St.
An apartment lobby security guard opened his door to some of the protesters, at least 5 sprinting in and one pushing a bicycle. LAPD failed to block the entryway, and officers glared through the glass before turning to face the crowd.
Officers then proceeded to push the remaining group North towards 5th St, making two arrests of videographers within the crowd. One videographer, Vishal P. Singh (@VPS_Reports), is a member of the U.S. Press Corps, and has documented police brutality protests within Los Angeles constantly throughout the year.
Vishal P. Singh (they/he) 🏳️‍⚧️

@VPS_Reports

Here's footage of me getting arrested, despite being clearly marked as press. (For the record, I am a member of the US Press Corps). #Elections2020 #freedomofpress #FreedomOfThePress
The other videographer, Sean Beckner Carmitchel (@acatwithnews), has also been a popular independent journalist on the front lines of Los Angeles protests. He was able to document LAPD targeting him specifically prior to his arrest, saying 'start with that guy', while pointing directly at him. LAPD officers have addressed both Carmitchel and Singh by their first names at recent protests. Carmitchel was also arrested with NLG legal observers at the Staples Center the night prior.
Sean Beckner-Carmitchel

@ACatWithNews

Immediately before my arrest, he can be overheard saying "start with that guy." Another officer says "Sean?"

#1stAmendment #dtla #lapd #blm

(Your browser doesn't support the video tag.)
Following the arrests of both videographers, LAPD ceased forward movement of the Southmost skirmish line, then declared everyone within the kettle under arrest.
Billionaire Paid Activist

@hungryghosts161

Well we're kettled and they told us we're all under arrest

(Your browser doesn't support the video tag.)
Officers were 100 feet parallel one another, with about 30 people between them. LAPD then proceeded to remove a woman from a grey sedan in the roadway, as bystanders shouted that the woman was unrelated to the protest. The woman sobbed softly as she was led away from her vehicle by LAPD officers. Another man was detained within the kettle while working at a food truck.
About half of the group consisted of members of the press who had not been given a designated media area prior to the arrest announcement. Multiple people attempted to show officers on the skirmish line press credentials, to which one responded "Turn around and go over there. Go get arrested."
Billionaire Paid Activist

@hungryghosts161

I showed em my press card and they pointed a gun at me

(Your browser doesn't support the video tag.)
After a frantic few minutes of attempting to avoid arrest, LAPD provided a designated media area on the West side of the sidewalk.
Billionaire Paid Activist

@hungryghosts161

They moved all the press off to the side, seems like we're gonna be ok, but they won't let us leave yet

(Your browser doesn't support the video tag.)
Police on foot continued to hold the skirmish line at one end, with motorcycle officers blocking the intersection at 4th St. Without warning, the officers on motorcycles pulled away, allowing the group to continue North on Hill St. A group of about 25 protesters who had evaded the kettle prior cheered, while those recently freed made their way up the block. LAPD continued pushing with their skirmish line, which had now reached just before the intersection of 4th and Hill St. LAPD declared a second unlawful assembly, and demanded the small crowd- consisting of mostly press- to disperse.
Billionaire Paid Activist

@hungryghosts161

They declared another unlawful assembly? I thought it was already an unlawful assembly?

(Your browser doesn't support the video tag.)
LAPD motorcycle officers made a brief appearance once again, coming parallel to the skirmish line; only to find a rather empty intersection to disperse. Twenty minutes following the second unlawful assembly declaration, officers cleared the area.

Billionaire Paid Activist

@hungryghosts161

Well, they all just took off, it's over

(Your browser doesn't support the video tag.)
On Friday, Los Angeles chuds had planned an anti-democracy 'stop the vote' rally at LA City Hall, scheduled to begin at 3 p.m. Local antifascist coalitions formed counter-protests in anticipation of the event, and coordinated to display a vast intolerance for Fascism in downtown LA. While the counter-protests were community organized, groups such as Los Angeles Antifascist Bloc, the Autonomous Anarchist Revolutionary Front, and the South West chapter of the Youth Liberation Front promoted the events.
TOMORROW!

MAGA Chuds think they can hold a rally in the dead center of LA and get away with it. Let's show them otherwise!
A group of about 30 antifascist protesters gathered prior to 1 p.m, and claimed the steps of City Hall as their own. LAPD filled the neighboring blocks, carrying less-lethal weapons while monitoring the relaxed antifascists. Another group had begun to gather within Father Serra Park at 2 p.m., composed of antifascists ready to chase the chuds from their city. LAPD surveilled this group incessantly as well, pointing out antifascists they deemed 'suspicious' and directing officers to film them. The antifascist protesters then marched the half mile to LA City Hall, surrounded by LAPD for the entirety of the march. The group was forced to remain on the sidewalk, in order to avoid a police intervention prior to driving the fascists out of downtown.
Billionaire Paid Activist

@hungryghosts161

The anti-fascist march is arriving at city hall, trailed by a large LAPD contingent

(Your browser doesn't support the video tag.)
Antifascist protesters arrived at City Hall just before 3 p.m. The group gathered at the steps below City Hall, and waited for the arrival of the anti-democracy protest. After about thirty minutes and no sight of the chuds, the group marched again. LAPD continued an egregious display of authoritarian militarization, who trailed the protest with a near ratio of 5:1 officers, threatening less lethal munitions and arrests for even a minor disciplinary infraction. LAPD made one arrest of a man on a bicycle, and shoved a videographer for attempting to document the situation.
Billionaire Paid Activist

@hungryghosts161

Cops just made an arrest, not clear why. Officer Spear with the rifle there shoved @VPS_Reports too

(Your browser doesn't support the video tag.)
Antifascist demonstrators began to believe the chuds may have been scared off through intimidation alone, and returned to Father Serra Park for a dance party. Thirty minutes later, however, an unfortunate group of about 15 anti-democracy protesters appeared at 1st and Spring St.
Billionaire Paid Activist

@hungryghosts161

This is the entire turnout for the fash rally, and half those people are media or counterprotesters
The maskless fascists–surrounded by law enforcement for their own protection–never made it within a block of City Hall. Many antifascists and members of the press questioned the chuds on their beliefs, who were then unable to provide an intelligible response. The chuds remained cramped on the sidewalk behind LAPD for less than an hour, then were forced back to their vehicles with police escorts. The antifascists had succeeded in repelling the anti-democracy protest within Los Angeles. A few protesters sang a rendition of "Na Na Hey Hey Goodbye"; but replaced 'Goodbye' with 'Fuck you' as LAPD left the area.
Billionaire Paid Activist

@hungryghosts161

Cops are leaving, most of the fash are gone too

(Your browser doesn't support the video tag.)
A note from the editor...
LCRW will ALWAYS publish ALL of our content free-of-charge for the public good. Our work is supported by readers like you!!
I'm a broke journalist and run this outlet mostly out-of-pocket. I would love nothing more than to be able to dedicate 100% of my time to doing this coverage.
Support for LCRW has allowed me to travel to report, make ends meet every month, and even buy gear and software licenses for my work. I can't thank the folks who donate enough.
— Abner Häuge, Editor-in-Chief